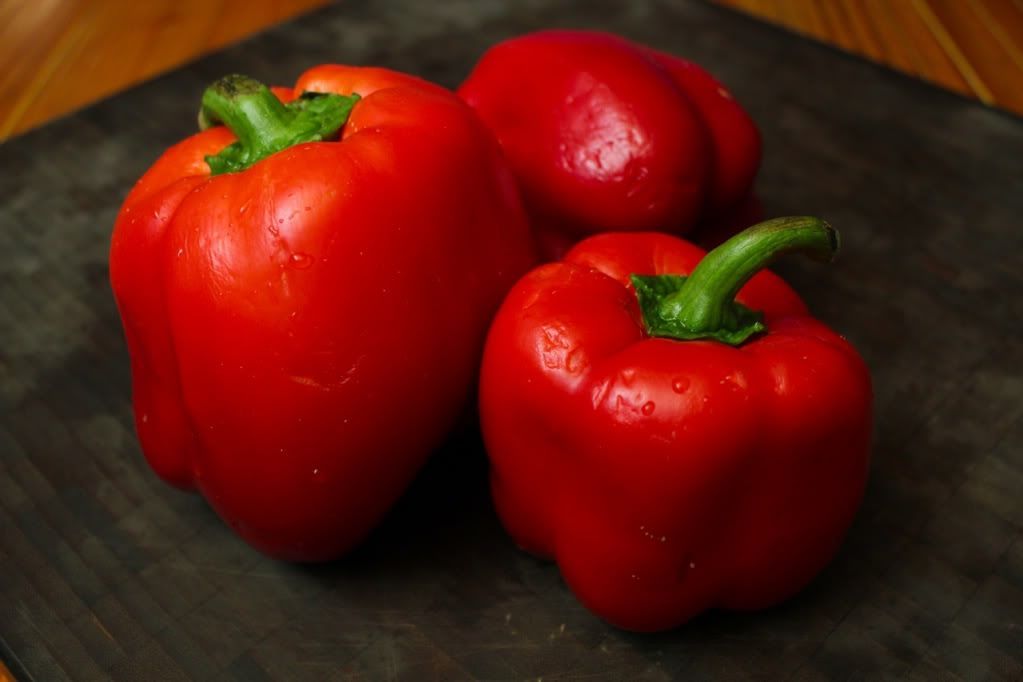 These big beautiful peppers arrived from
Full Circle Farm
not too long ago. I put them to use by making this simple and tasty casserole. It all started with a stuffed peppers recipe I found somewhere> But it only took one attempt at pepper cleaning and stuffing until I realized they'd taste the same casserole style. I did a bit of modifying and came up with a method more conducive to my tolerance level.
My pepper cutting trick: hold the pepper by the stem, cut straight down, make a quarter turn, slice, repeat. At the end you're left holding all the seeds and crud that is still attached to the stem. Toss that baby and you're pepper is ready to go.
Slice the pepper pieces into one inch wide strips and layer in a small baking pan. The white bits you see are pieces of fennel I had in the refrigerator. I don't normally include fennel in this dish but I was looking for a way to use this stuff up. I hate letting food go to waste so I just add in random ingredients here and there.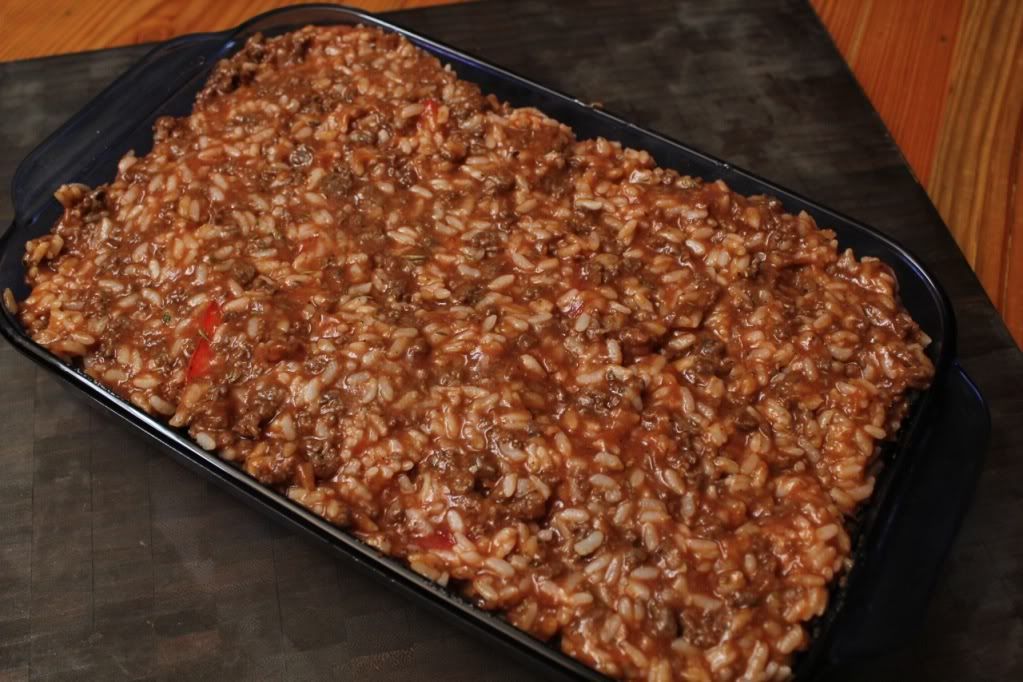 In a separate bowl mix together the browned burger, rice, tomato sauce and seasonings. Then spread on top of the peppers. Cook in the oven for about 45 minutes.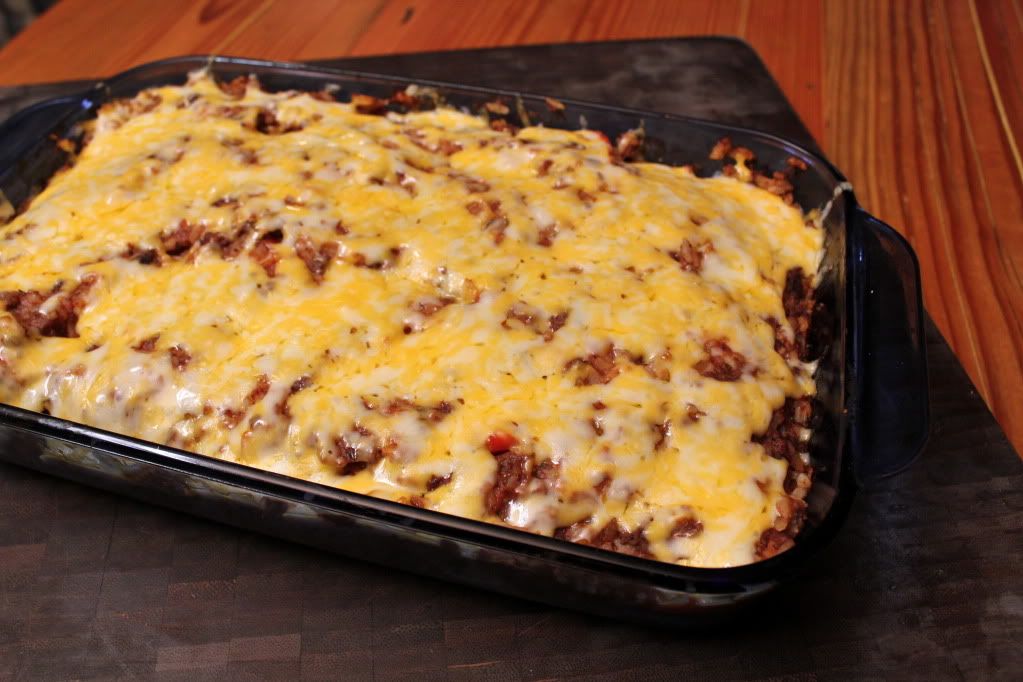 When there's about 5 minutes left on the cooking time, sprinkle a generous amount of cheese over the whole mess and return to the oven.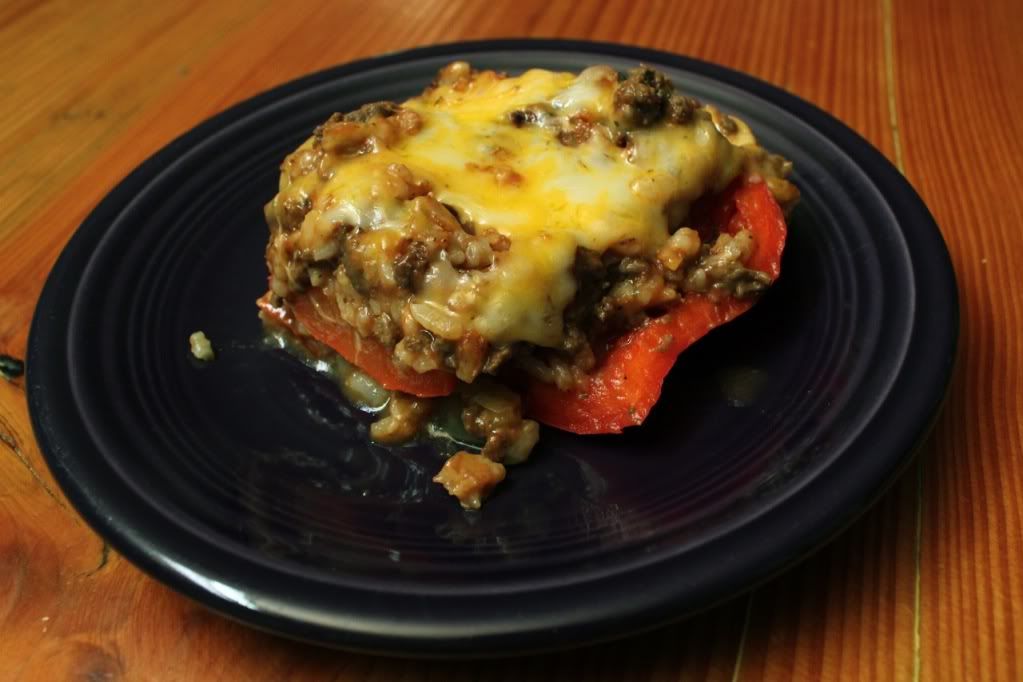 Stuffed Pepper Casserole
Ingredients:
1 lb ground meat
1/2 c. uncooked rice
3 or 4 red bell peppers
14 oz can of tomato sauce
1 Tbs Worcestershire sauce
1/4 tsp. garlic salt
1/4 tsp. onion powder
pepper
1 tsp Italian seasoning
1 cup or more grated cheese
Directions:
Preheat oven to 350 degrees F.
Brown the meat and cook the rice. In a bowl, mix together the meat, rice, tomato sauce, Worcestershire sauce, garlic salt, onion powder, and pepper.
Slice the peppers into 1 to 2 inch strips. Arrange peppers in a small baking dish (7in X 11in or so).
Layer the meat mixture over the peppers.
Bake for 45 minutes to an hour depending on how soft or firm you prefer your peppers. If the top starts to get over done, cover with aluminum foil. When there is about 5 minutes cooking time left, remove the foil and cover with shredded cheese. Return to oven until cheese has melted.
~AnnMarie